Saving money on Halloween Costumes

Mollie Macklin
Let's talk Halloween costumes on a budget! 👻
---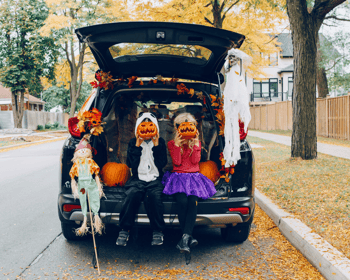 Halloween is just around the corner! Whether you're dressing up yourself, or looking for costumes for kids, there are several ways to find costumes on a budget. Check them out below!
Use what you already have.
Chances are you already have a couple of costumes or costume props around the house already. Go through old clothes, accessories, and toys and see what you can find. There are also many characters from movies or television shows who wear everyday clothes.
Take the green dress you wore for your cousin's wedding last fall and tiara from the dollar store and you're Princess Fiona from Shrek. Let your child wear their dad's Hawaiian button-up with some khakis and a visor, and they're a tacky tourist. There are a ton of things you can do with stuff around the house and a little creativity can go a long way!

Shop at discount stores, dollar stores, and second-hand clothing stores.
Try shopping at discount and second-hand stores. You'd be amazed with what you can find at your local Goodwill store. You could even find part of an actual costume. Places like Plato's Closet, Ross, Goodwill, and local discount stores are great places to find hidden gems. Then check out your local dollar store for any finishing pieces.
Found some overalls at Goodwill? Wear over an old flannel and buy a toy ax at the dollar store and now you're a lumberjack. Find a flowey flower dress at Ross that fits your child and buy a pair of wings at the dollar store, and now you have an adorable little fairy!

Use TRUE Halloween magic… make up.
Yes, make up is the true Halloween magic. It takes someone wearing a black dress and makes them a cat. If you truly don't have the budget for a costume, no matter how minimal, play up that make up!
Wear blue jeans and a flannel, and add some make-up and now you're a scarecrow. Or add an eyeliner lightning bolt on your forehead and skip the contacts and suddenly you're Harry Potter!
Get creative!
Some of the BEST costumes are done on a budget. It's all about thinking outside the box and really getting creative with what you've got. Go through your wardrobe and use Google or Pinterest to get inspiration! You don't have to spend a lot of money to absolutely rock Halloween.
If you found these tips helpful, tweet us your costumes @plinqit! We want to see what you put together 👻
---
Posted by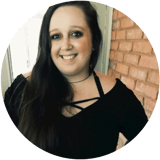 Mollie Macklin is the Digital Marketing Specialist at Plinqit and a content contributor for The Plinq. Mollie believes knowledge is power and enjoys creating valuable content for young adults navigating big financial decisions to help them create the lifestyle that makes them happy. Mollie also enjoys funny movies, traveling with her boyfriend, playing her Nintendo Switch, and hanging out with her cats in her free time.
Subscribe