Using Plinqit to save for your 2023 vacations

Mollie Macklin
See how I'm using Plinqit to travel in 2023!
---
It's early 2023 – and many of us are starting to plan what vacations or trips we want to take this year.
If you're anything like me, you want to do it all. Florida for Spring Break, the Great Smoky Mountains for my birthday in August, Atlanta for my boyfriend's birthday in September, and maybe Myrtle Beach for New Year's?
While that would be an AMAZING year, it's unlikely we'll be able to pay for it all.
Or can we?
How Plinqit can help.
The great thing about Plinqit is that you can save multiple things simultaneously. I have two trips I want to go on in the first half of the year and two in the second half (okay, not exactly half, but I'm planning for it that way!).
I have savings for my first two trips (Destin and Pigeon Forge) starting to come out every other week now, and the bigger of the two (Pigeon Forge) coming out on my paydays (which are every other Friday). Then the smaller amount (Destin) comes out on Friday between paydays. That means I'm putting money aside every week for my first two trips.
Once I'm done with my first trip to Florida, I'll have money coming out for my third trip, to Atlanta. That money will start coming out in May. Then, about a month later, I'll have my fourth trip savings goal started. I'll have my bigger amount (New Year's) coming out on paydays.
Stacking my savings goals this way helps me always to be putting money away specifically for trips, but in a way that allows me to alternate with my paychecks/bills, so I'm never hurting for money. And the best part of all of this is that setting up each of these goals takes 5 minutes once you plan out your budget and timeframe.
Of course, these types of stacked savings goals do take some planning. But it really is possible to do it all! Just takes some planning and Plinqit! 😉
---
Posted by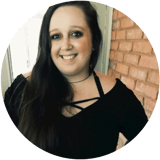 Mollie Macklin is the Digital Marketing Specialist at Plinqit and a content contributor for The Plinq. Mollie believes knowledge is power and enjoys creating valuable content for young adults navigating big financial decisions to help them create the lifestyle that makes them happy. Mollie also enjoys funny movies, traveling with her boyfriend, playing her Nintendo Switch, and hanging out with her cats in her free time.
Subscribe